Hayter Engineering Announces the Launch of New Responsive Website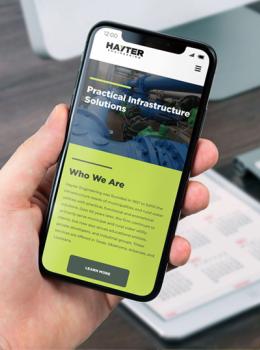 Since 1957, Hayter Engineering has been a pioneer in the civil engineering industry, adapting and expanding our services to meet the needs of the many clients we serve. As we move forward into the future and embrace new technologies, we are proud to announce the launch of our new website, HayterEng.com.
The new Hayter Engineering website is highly responsive and designed and developed for optimal use on mobile devices, including phones and tablets, providing users with the same features and functions they would experience on a desktop computer.  
The new website enhances user experience and provides visitors with an improved platform through its updated and modernized design, well-organized content that highlights and details the many services offered, and project gallery that features the latest company projects and work.
We are proud to provide our current and potential clients with a highly functional and user-friendly website that wholly represents the deep-rooted values of Hayter Engineering and the many services that we offer.
Let's Work Better Together at the New HayterEng.com!
For more information, contact Hayter Engineering at 903.785.0303
or email info@haytereng.com.