Our History
Hayter Engineering Inc. was incorporated in 1957, by Robert B. Hayter. Bob was a native of Greenville, Texas, a veteran, and a civil engineering graduate of Texas A & M University. Following his graduation, he worked for the City of Waco, and after receiving his P.E. license, Bob became City Engineer and Director of Public Works for the City of Paris.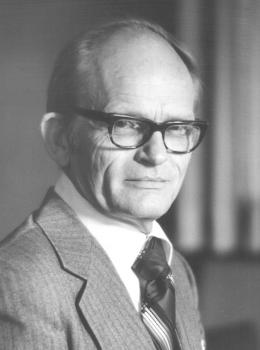 Bob was raised with the belief that hard work, perseverance and integrity were  keys to success. He had a strong sense of purpose and of self-reliance. Propelled by his entrepreneurial drive and desire to improve the quality of life for others he left the City of Paris in 1957 to try his hand at private practice. Sharing office space in Paris with Morris Misso, a general contractor, Hayter began as a one-man part- time firm.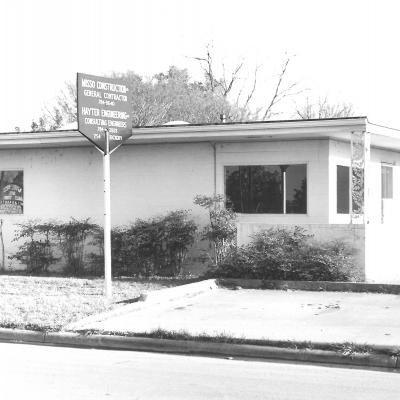 Initial projects, in connection with Misso, included several industrial and institutional facilities in Paris and Sulphur Springs. Early Hayter projects included roads in Bowie County, water and sewer projects in Cass, Fannin, Hunt, and Lamar Counties, and a number of land development and surveying assignments. The firm grew as projects were successfully completed, and by the mid-60's had a staff of five. The mid-60's brought the development of Lamar County Water Supply, which brought together 13 different local, state, and federal agencies to deliver drinking water to rural Lamar County for the first time. Beginning with 845 retail and 4 wholesale customers, the system is now among the largest in Texas, serving over 25,000 people.
In the mid-1970's Hayter Engineering developed a new wastewater treatment plant for the City of Paris. This plant was, at that time, the largest orbal aeration facility in the world, and continues to serve the City today. Most of the enhancements to this facility over the years have been designed by Hayter, evidence of a long relationship with our home community.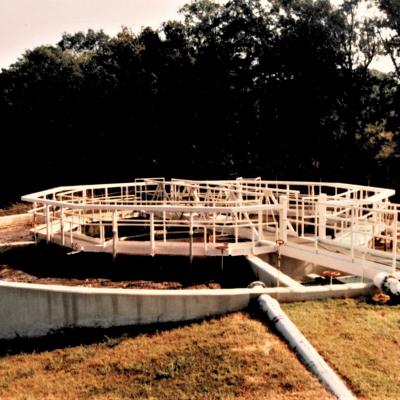 In 1976, Bob's two eldest sons, Reeves and Bill joined the firm. The 1970's and early 80's saw significant federal investments in water and wastewater infrastructure and Hayter grew to meet that need. In 1977 the firm relocated to new, larger offices in Paris. In the early 1980's the firm assisted the City of Reno in developing its first wastewater collection system and treatment facility. Due in large part to these facilities, the City has since tripled in population. Also in the 1980's, the City of Cooper's municipal water reservoir was literally dry – milk trucks supplied drinking water on the public square. Working with the City, the Delta County MUD, the Texas Water Development Board, and USDA, Hayter planned, designed, permitted and provided construction supervision for Big Creek Reservoir and a new water treatment plant.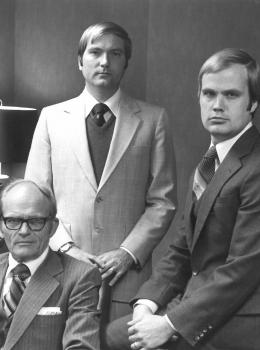 In 1986 Bob Hayter passed away, and leadership transitioned to Reeves and Bill. In its second generation of leadership, the firm expanded its services to include comprehensive municipal planning, environmental studies, permitting and a broader range of civil engineering projects including parks, recreational trails, and other municipal facilities, as well as site planning and civil design for various commercial and institutional clients. The firm continued to specialize in civil/environmental infrastructure projects for municipal and county governments and water suppliers. In the 1990's the firm completed the first of two wastewater treatment plant expansions for the City of Bonham. Land surveying was added as a service in 1996. To aid its clients in funding their needs, the firm honed its expertise in financing projects through state and federal loans and grants.
With the retirement of Reeves Hayter in 2016, and Bill in 2018, management transitioned to Mike Donnan. Upon Mike Donnan's retirement in 2022, Hayter Engineering was placed under the leadership of Mike Tibbets, P.E., and Kevin Whitley, R.P.L.S.. The firm provides services in Texas, Oklahoma, and Arkansas.
As we have since 1957, our firm will continue to adapt and to expand our services to meet the needs of the clients we serve. What has not and will not change is the ethic of hard work, perseverance, and integrity with which Bob Hayter founded this firm and that we will exhibit on every project we have the privilege of being a part of.